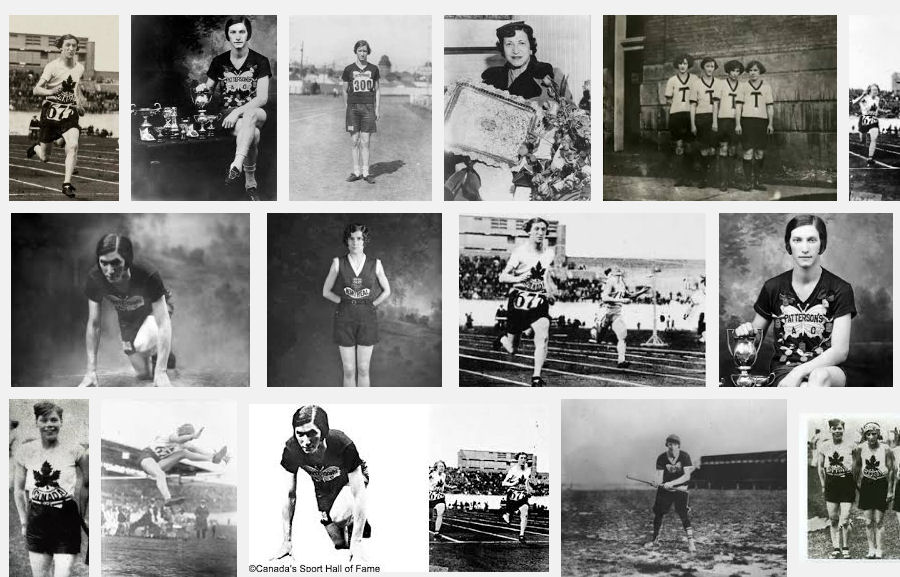 The Complete Athlete
Anne Dublin's latest effort profiles Bobbie Rosenfeld
By Tom G. Kernaghan
Bobbie Rosenfeld was one of the most remarkable athletes ever to grace the world stage.
Quick and strong, Rosenfeld was an extremely tough competitor who possessed exceptional natural talent. With bullet-like determination, she excelled at every sport she tried. She set records in track and field, led Canada's first women's track and field team at the 1928 Olympics, won medals, earned accolades, and became a well-known Globe and Mail columnist. She was named female athlete of the half-century in 1950, has been inducted into Canada's Sports Hall of Fame, and had a plaque, a park, and an award named in her honour. And she fought the prevailing notion that women could not handle highly- competitive sports.
And until a couple months ago, I had never heard of her.
Until three years ago, neither had children's book writer and biographer Anne Dublin, who aims to create awareness with her latest effort, Bobbie Rosenfeld: The Olympian Who Could Do Everything. Dublin, who wrote Written in the Wind, is as passionate about Bobbie Rosenfeld's story as Rosenfeld was about sports, and it shows.
Ambitiously researched and well-framed in historical and cultural context, the book tells the story of Fanny (Bobbie) Rosenfeld, who was born to Jewish parents in Ukraine, around 1904. The family immigrated to Canada shortly thereafter and settled in Barrie, where the Rosenfelds struggled hard to survive before moving to the Annex's Markham Street.
It was there that Bobbie enrolled in Harbord Collegiate Institute. She had already exhibited her phenomenal athletic ability in Barrie, playing hockey, softball, and basketball. Once in Toronto, however, she found herself exposed to competition and camaraderie that would help launch her to greatness in her own time.
Dublin, a librarian and former elementary school teacher, does a great job at laying out the facts about Rosenfeld and her times in way that is clear and even, without moralizing or talking down to children, which may explain why the book is so engaging to the adult reader as well.
But her biggest score is how she makes Rosenfeld's decency and humanity both accessible and compelling. Some say that true greatness must have ordinariness as a steadying companion. While Rosenfeld was certainly down to earth and unpretentious, her generosity and fairness were anything but ordinary.
In one profoundly moving and emblematic display at the 1928 Olympics, Rosenfeld purposely lagged behind an injured teammate during an 800-yard race in order to provide moral support. This gesture looked good on a growing Canada and reminded the world that true sport was about character, not just physical feats. Noble principles drove Rosenfeld as much as competitive hunger.
It's a hunger Dublin understands well. Born to Polish Holocaust survivors in a displaced persons camp in Salzburg, Austria, after which her family immigrated to Canada and moved to the Annex in 1948, she can relate to Rosenfeld's story.
"I could connect with her in so many ways," says Dublin, in reference to Rosenfeld's struggle with poverty, social classes, and intolerance. "She had so many strikes against her."
For Dublin, inspired by writers like Katherine Paterson, a biographer needs to "get beyond the facts, to what drives the person, intellectually and emotionally, and why they make the choices they make." It's about the challenges a person faces, said Dublin, who stresses Rosenfeld's story of courage transcends race, religion, and gender.
Rosenfeld may have faced her greatest challenge when shortly after her return from the 1928 Olympics she developed intermittently crippling arthritis.
True to character, Rosenfeld focused all her strength and love on what she wanted to do.
After coaching for a period of time, she started her Globe and Mail column "Sports Reel," which ran for 20 years. Readers and colleagues knew her as a feisty, witty, and intrepid champion of women and women's sports.
Bobbie Rosenfeld died in 1969. She was remembered for her warmth, honesty, and strength.
She gave credit where it was due and censure where it was deserved. Leading by example, she wrote about the beauty and grace in all sports, suffering not the "warped egos" of chauvinists, and that belongs to all of us.
(Gleaner News, Toronto)