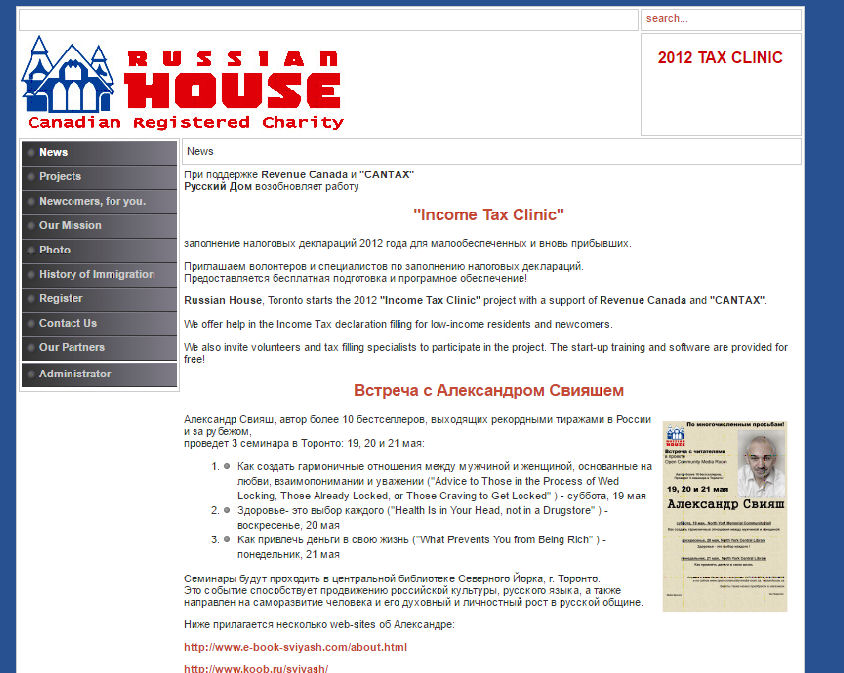 Culture shock in Canada
Subculture youth project slow to catch on among Russian youth
By Tom G. Kernaghan
"There's something that keeps young Russians from integrating," says Ilia Avroutine, head of the Subculture youth project at Russian House, a non-profit group in Swansea formed to preserve and share Russian culture in Canada.
"They were raised to believe we're the greatest country in the world… They understand that Russia is an experiment that failed."
Now the children of the former superpower are looking for a place to feel at home.
"[Young Russians] have great expectations before arriving here," says Avroutine, who immigrated to Canada from Russia 13 years ago and now teaches economics at Seneca College.
Their community, though fairly small relative to others in the GTA, is growing rapidly in the Village area. Russian ranked number four in the top 10 mother tongues in Ward 13 (Parkdale-High Park) according to the 2001 Statistics Canada Census. But like many other immigrant groups, Russians are finding economic well-being and social progress do not always come as quickly as hoped.
"Their optimism gets crushed," says Avroutine.
In stark contrast, many feel extremely proud of their culture and education – which many Russian newcomers say they believe is superior to Canadian education.
Avroutine says many young Russian males also place a high value on physical ability and power. Some seek work the army or the fitness industry so they can find expression for their energy.
But not all physical expression is healthy.
"Some got disillusioned," says Avroutine of the letdown many experience in Canada. "Some feel bitter and deceived."
Such disillusionment can lead to depression and addiction. Avroutine, who describes himself as one of Subculture's "conceptual builders," also cites isolation and crime as concerns, especially when youths find themselves idle.
It is primarily for these reasons that he and others initiated the Subculture Project a couple years ago. Like Russian House itself, which opened up on The Queensway to serve the growing Russian community in the city's southwest end, the youth group seeks to educate and assist "at risk" families and individuals who may be finding settlement difficult.
To be clear, most Russian youths are not prone to violent or criminal behaviour. However, many do find it difficult to adapt to the new language and culture here. Subculture organizers hope that by promoting musical acts they will be able to bring young Russians and Canadians together more often.
"Music is one way to express yourself, definitely," says Egor Shalvarov, 18, who immigrated here five years ago and is now the drummer of a band called Millenia, which recently recorded a demo. "Music is something totally crazy. I like all kinds of music – rock, hip-hop, country – and I think about the solos I can do."
As for youth crime and violence, Shalvarov, who is also a massage therapy student, says he has heard some stories about isolated violence in his community, but that tensions here are "nothing compared to the tensions back over [in Russia]."
Generally speaking, most young women and men in the Russian community are simply trying to deal with what most newcomers have to face.
"The vast majority aren't trouble makers," says Maria Kozlov, a fourth-year criminology student at York University. "If you ask me about [the violence], I am not threatened by it."
"It's always the common challenge," says Kozlov, who emigrated from Siberia. "You have to find new friends, a new place, with new rules of the game."
But the new rules may be making for a slow game.
"[Subculture] hasn't been able to able to organize itself," says Avroutine. "There have been a few initiatives, but it's pretty hard getting young people to come together."
One major obstacle is a lack of money. While Russian House's committee hopes to receive government funding, currently the centre depends on donations and sponsorships. Avroutine blames slow fundraising efforts on a lack of Canadian experience and differences between Russian and Canadian cultures.
"Many Russians find Canadian culture strange, weird, laid back, and kind of gentle," says Avroutine, adding Russians are often much more open and aggressive in the way they communicate. "Our principles are very different…. Here you sweep things under the carpet."
"People are colder-hearted in Canada," agrees Shalvarov. "In Russia, if you want to meet a girl, no problem, you just go over to her and talk to her. They turn around, not away."
For more information on Russian House or the Subculture Project, please visit www.russianhouse.ca, or call 416-354-2635.
(Gleaner News, Toronto)