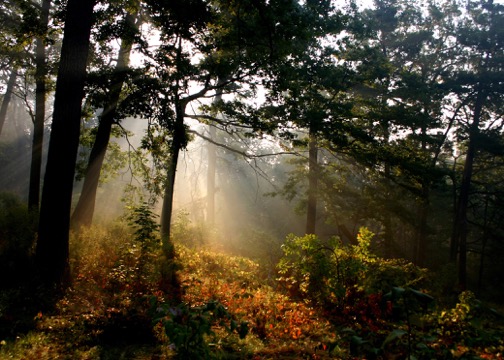 Capturing High Park's beauty
Walkabout with photographer David Allen
By Tom G. Kernaghan
David Allen likes turning restrictions into opportunities. Though he usually takes pictures at sunrise or sunset, this veteran photographer and local resident can easily find High Park's beauty in the flat light of an overcast sky in the middle of a winter's day.
"It's all about texture," said Allen, who shoots in the park five times a week and has displayed his four-season collection of photographs in Grenadier Café and Tea House (200 Parkside Dr.) since last August. "You use the light to your advantage."
Enthusiastically snapping shots of tree bark against snowy ground, Allen explained how even in poor conditions, close-ups of everyday things reveal unexpected detail and richness. Perceptive and abundantly curious, he takes his shots without the help of a zoom lens. Also in abundance is his desire to give back to the park, which he does by donating a portion of the proceeds from the sale of his collection to The High Park Advisory Council.
"I want to promote High Park," said Allen, who has been coming to the park with his wife and two daughters since 1983. "It's never been promoted. I have no idea why. It always bothered me…. I think too many people are stuck indoors, watching television. I see some joggers, walkers, and doggie folks, but there aren't too many people who get up at dawn to look at this…"
Allen led me to Hawk Hill, which is the highest point in the park, a haven for birds, and an attraction for bird watchers.
"This is the most beautiful collection of trees here," exclaimed Allen, pointing out a lovely group of sugar maple trees, which were planted as part of a reforestation program. "These are absolutely magnificent."
As we walked away from Hawk Hill, he told me about his auspicious arrival to Canada from England in 1966. Eighteen at the time, he quickly and eagerly began to establish himself as a photographer.
"It certainly was the land of milk and honey back then," recalled Allen, adding his first pay cheque was a handsome $47, which he asked the bank teller to give him in one dollar bills. His career took off.
Between 1975 and 1999, Allen ran a lucrative downtown photography business, shooting for high-profile magazines, personalities, and corporations. Naturally entrepreneurial, Allen did very well. But the 1990s ushered in a new marketplace, a new generation, and a digital revolution.
He lost his business.
"I knew it would come to an end," said Allen, an avid collector not only of photos but also of books on John F. Kennedy and jigsaw puzzles of British steam engines, "but I didn't quite know when."
Allen had to reinvent himself. Though this task was extremely difficult at first, he managed to find new ways to continue as a photographer.
"I'm pretty tough, I guess," said Allen. "I'm a survivor."
Having struggled with a stutter his entire life, Allen is accustomed to personal challenges. After dropping out of high school, he found photography was an obvious way to communicate without relying on words.
"It has a lot to do with me and what I've chosen to do," he said. "I love being on my own. I don't have any problem with that."
These days Allen may spend a lot of time photographing on his own, but he has found a new purpose in sharing the up-close world he captures inside and outside High Park.
In 2002, he started Tinyworld, a company which entertains and educates children with slides showing a variety of everyday objects and individuals up close. He's already performed at more than half of the city's 99 libraries, and is amazed at the discussions his pictures provoke.
"There are a lot of people who can read books, and a lot of people watch TV," said Allen, "but a lot of people don't really look at things."
Allen, ever the collector, is doing his part to show people what they may be missing by not going to High Park – four seasons of spectacular change and 399 acres of wonder.
"Texture is beautiful," he said. "I just continue to shoot."
(Gleaner News, Toronto)