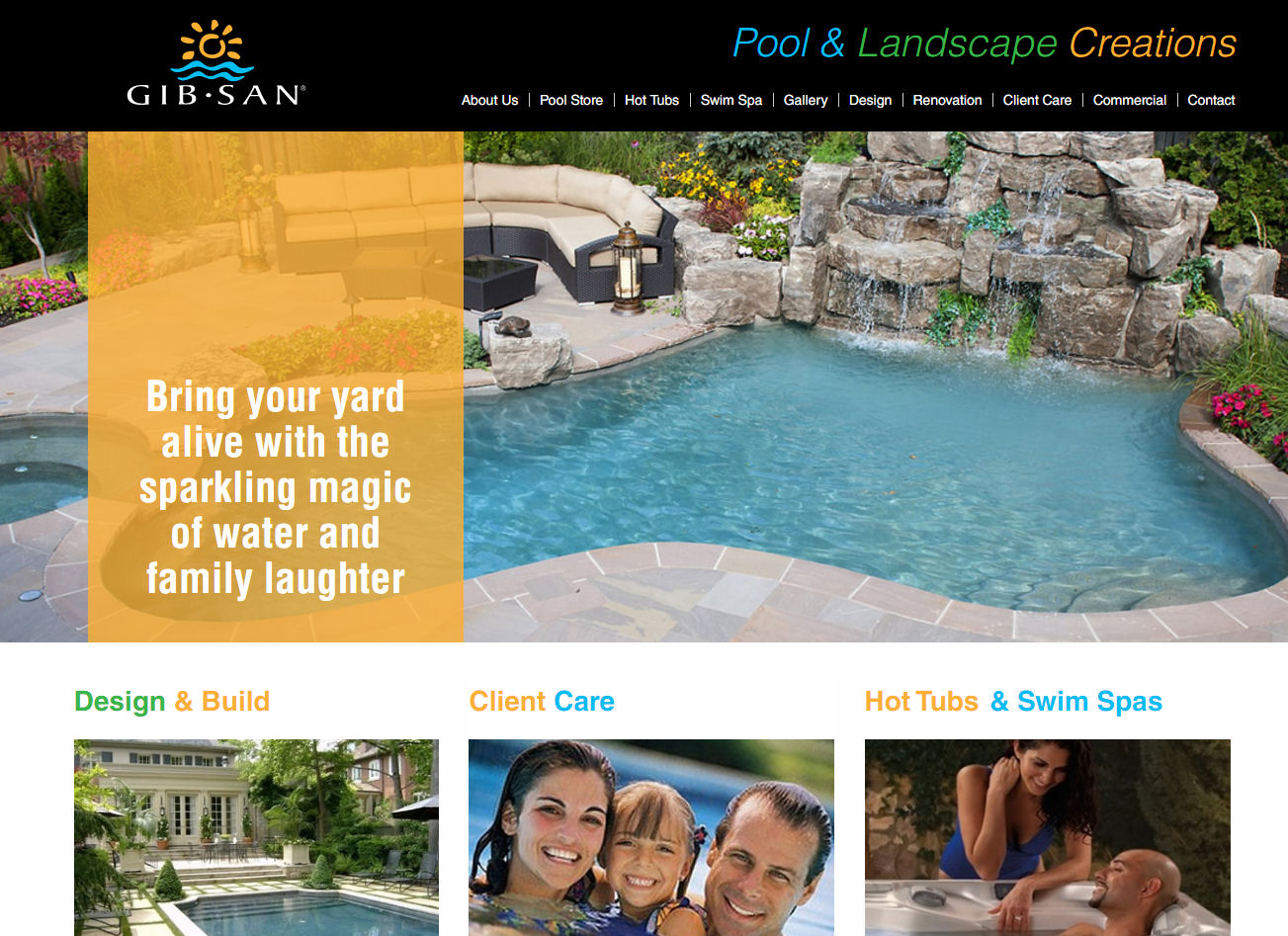 Moving water runs deep
Gib-San Pools set a new standard
Congratulations to Toronto's Gib-San pools who recently achieved a first when it became the first pool builder in the world to receive the internationally recognized ISO-9001 Quality Standards Registration.
Ed Gibbs, president and CEO, and his team of roughly 120 dedicated employees have spent three years refining their policies, procedures, and practices to ensure they have a measurable system of delivering the highest possible level of customer service all year around.
Focus on superior quality and beautiful pools is nothing new for Gib-San, which has won numerous awards for design and business excellence, and since 1972 has been committed to training, expertise, and service that aims, in the words of the company's mission statement: "To deliver our clients' dreams."
To make dreams happen, Gib-San operates five divisions which together handle all facets of pool and landscape construction; pool and landscape design, commercial landscape and renovation; international projects, such as the gold-award-winning Marriott Beach Resort and Casino on St. Kitts; and retail pool and spa services, at a full-service, year-round store that offers a vast array of pool- and Jacuzzi-related products.
In keeping with their strong belief in knowledge as a foundation of excellence, the 'Gib-San Clubhouse' online membership was created to allow customers access to tips and reference manuals, and the ability to book pool openings and closings. Gib-San also offers weekly, bi-weekly, and monthly maintenance programs, has year-round, 24-hour emergency service, and operates the largest and most qualified fleet of service vehicles in the industry.
Gib-san's success was recognized by the Master Pools Guild when the international organization asked them to join in 1986. Membership in the Guild has given the company access to cutting-edge technologies and worldwide experiences, as well as an opportunity to contribute while raising its profile. Not only have Gibbs and his team distinguished themselves by gaining membership in this elite network of pool builders, to which only eight Canadian companies belong, but recently Gibbs has committed to the Guild roles of vice-chairman of the board, chairman of the board, and past-chairman over the next three years—positions few Canadians have held.
Moving forward, Gib-San Pools is building on its current ISO-9001 status for quality systems by conforming to ISO 14000, a management system for minimizing harmful environmental effects, and ISO 18000, an occupational health and safety management system.
Gib-San sees an approaching era in which the public demands higher standards for pool products, design, and quality construction, and they are poised to be a leader in setting a new industry high-water mark.
(Etobicoke Chamber of Commerce newsletter – May 2005)