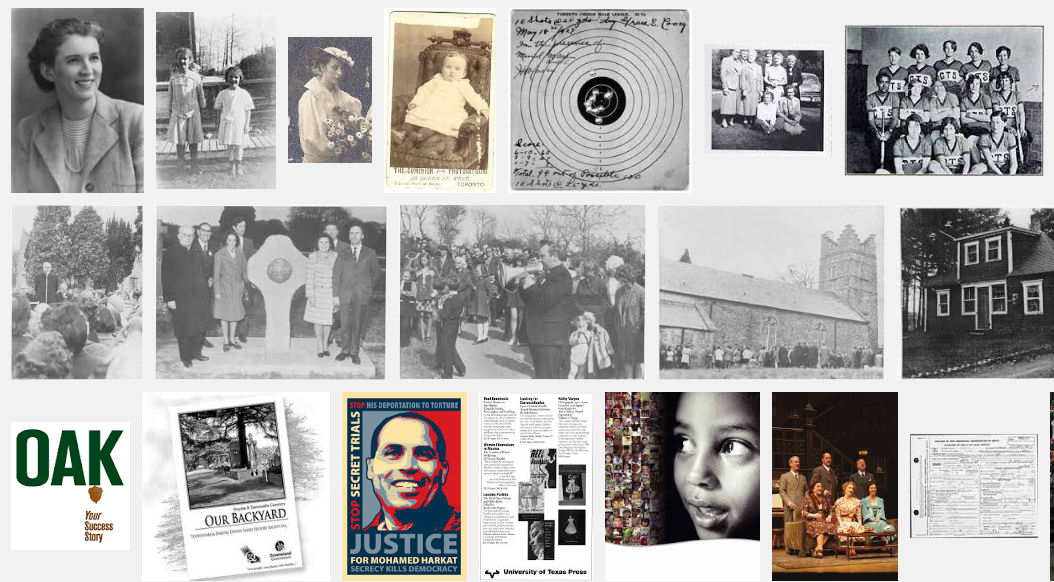 Grace always targeted success
Father created trusty .22 "Cooey" rifle
By Tom G. Kernaghan
1349 Bathurst St.
Toronto
Dear Grace:
Drop a word of cheer and kindness.
Just a flash and it is gone.
But there's half a hundred ripples
Circling on and on and on.
Donald
Feb. 1925
Grace Cooey learned to shoot a rifle at age 11, in 1921. She had a great teacher—her father.
In previous columns, I have talked about Herbert Cooey's successful gun and machining business at Howland and Bridgman avenues. However, a closer look at the example set by Herbert will shed even more light on the only daughter of this remarkable Annex man.
A well-known, expert machinist since 1903, Herb was already successful when he accepted a large government contract during the First World War. After manufacturing munitions and folding peep sights for Ross rifles, he went on to design and produce his first gun in 1919—the Cooey Canuck, a single shot, bolt action .22 calibre rifle with an oiled black walnut stock. Later renamed the Ace, the "Cooey" soon became known for its quality, reliability, and accuracy, all of which were touted in the lines of Cooey promotional material: "Don't Take a Substitute" and "Make mine a Cooey—I want the best!" One 1922 advertisement in Rod and Gun in Canada boasted the Canuck was "The ideal Christmas present for the red-blooded boy, whether he lives in the city, the town or the country."
To this day, I still meet aging gun enthusiasts who talk warmly about the trusty Cooey hunting rifles they used when they were young.
A longtime member of the Toronto Gun Club, which competed at Balmy Beach and Lakeview Park, Herbert had superior shooting skills that made many local headlines: "One of Toronto's Best Trap Shooters;" "Cooey High Gun at Balmy Beach;" "Cooey Takes the Lead for Toronto Club Cup;" and, "Cooey is the Leader of Canadian Shooters." And he was part of a seven-member team that won silver at the 1924 Olympics in Paris.
So Grace, whose athletic ability was later recorded in the Central Technical School Vulcan, was in a perfect position to learn about performance, accuracy, and, most important to her, respect for the power of guns. Grace's attitude and behaviour toward firearms was emblematic of her high regard for her father, and her zest for life. And she wasn't even a "red-blooded boy."
A few months back I mentioned one valediction to Grace in the June 1927 Vulcan that quipped she would "take to hunting wild animals with her father's guns." While this comment was likely meant as a joke, as Grace was an animal lover, it was no joke that Grace was unrelenting in her pursuit of high achievement, especially in sports. On May 18, 1927, Grace scored 94 out of 100 in 10 shots taken from a range of 25 yards, at the Toronto Indoor Rifle League.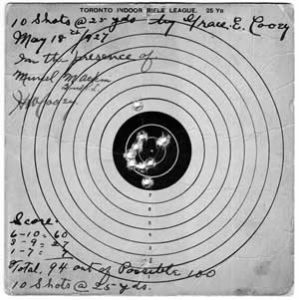 Grace's target practice from May 18, 1927
at the Toronto Indoor Rifle League shows a
score of 94 out of 100.
It was this standard of excellence that Grace carried with her and later used during the Second World War when she became the only female scout leader in the Cobourg area. At the same time, Herbert had "another direct hit" when he launched his Model 82 rifle. The government ordered 34,810 units in order to train Canadian Army and R.C.A.F. cadets.
And it was during this period that Grace showed her kindness by taking in and caring for two English girls. Alison Francis Coleville, who now lives in England, recently reflected on her wartime experience with Grace.
"She was an amazing lady," says Coleville. "As we once more approach Remembrance Sunday and think of all who lost their lives in all the wars, I shall also remember the Great Lady who became my Canadian Mother in World War Two, and my greatest friend thereafter."
A teacher, Grace continually strove to touch and improve people's lives as much as possible. She succeeded , for many reasons, not the least of which was that she knew the difference between the circles on a target and circles of life. Her brother Donald likely knew that when he penned the above entry. The fact that you are reading this today is further proof.
Tom G. Kernaghan writes Through Grace's Eyes, a monthly column on Grace Eleanor Cooey, who was born and raised in the Annex at the beginning of the 20th century.
(Gleaner News, Toronto)