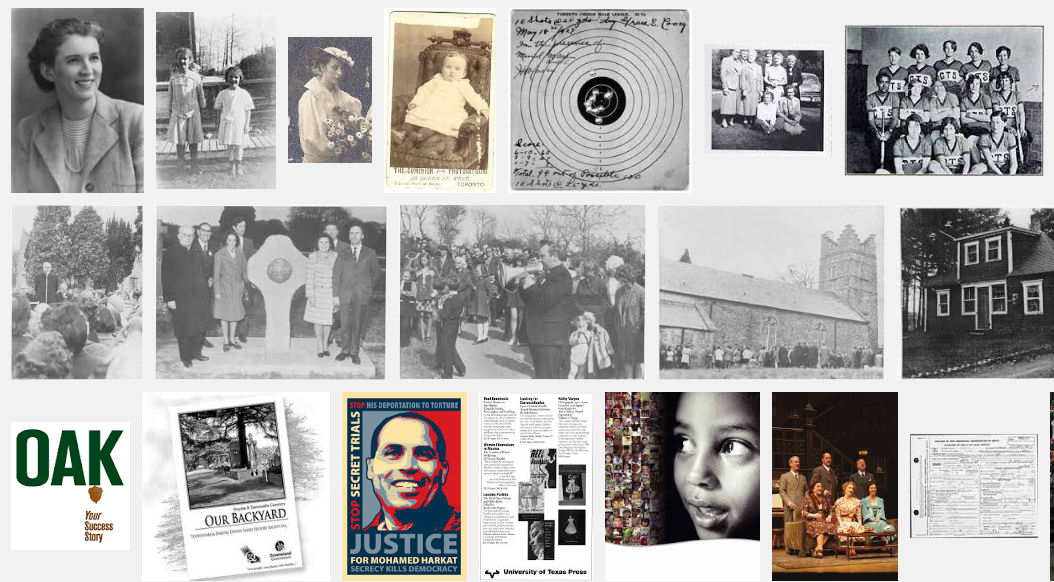 Grace moves from the Annex, but her daughter returns
The Bohemian Embassy and Yorkville's coffee houses big draws
By Tom G. Kernaghan
Be good, sweet maid, and let who will be clever;
Do noble things, not dream about them all day long:
And so make life, death, and the vast forever
One grand, sweet song."
Your friend,
Lorraine
Grace—
Keep smiling.
Irene L. Britnell
August 29, 1925
Grace was smiling on March 29, 1944, when she and George took a six-month-old girl into their home. The child joined David, a 9-year-old boy they had adopted four years earlier. Grace had found her away around the tubular pregnancy. Their little girl, whom they named Alison, settled in easily and the young family was very happy—in the beginning. George started up a sporting goods store, Grace kept house, David kept busy, and Alison, sensitive and intuitive, quickly saw the strength and friendship in her relationship with her mother, and the adoration of her father.
She could also see the mounting tension between her father and Grace's parents, who felt that George, now a former military man, was spending too much time at the Legion. Grace was torn between them. In 1951, a marriage that had once been held together by great love, broke apart. And though Alison could see this strain, she could not easily see the written word: she was afflicted with an incurable lazy eye, which made reading difficult. Grace had a new mission: she became her daughter's eyes.
Not only did Grace help her daughter, she also returned to teaching, at Cobourg's West Collegiate. While she commanded her classrooms, Grace had a harder time with Alison. Though she made some progress over time, the free-spirited youngster grew frustrated by her inability to stay focused on words, and by her father's absence. Alison's rebelliousness and poor school performance drove Grace to make a painful decision: she sent the teen away to Albert College in Belleville, and when the young woman returned, she was still full of spirit, but now much more focused. And she was filled with stories Grace had told her … of the Annex.
In 1961, Alison moved to Toronto, took modelling classes, and worked in various offices near the Spadina Avenue garment district. In 1962, she and a roommate had two flats—one on Spadina Road, the other on Davenport Road. From there she frequented The Bohemian Embassy and the coffee houses of Yorkville, where she took in young folk acts like Ian and Sylvia, and Gordon Lightfoot.
Life in Toronto was exciting and fun. Times were changing.
Herbert died early in 1962. His passing weighed heavily on the entire family, particularly on Alison, who had been extremely close to "Poppy Herbie." And Grace was on the brink of exhaustion as she cared for her mother and continued to teach. Making matters worse, Alison began to see that her roommate had fallen victim to the rougher side of beatnik culture—drugs and hooking. When a pimp threatened Alison's life, police told her to leave the city. She left, with regret; like her mother, she still loved the Annex. Two years later she returned to Toronto, married and pregnant.
I am the younger of her two sons.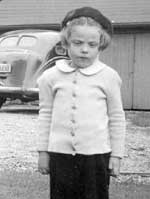 Grace's daughter Alison poses at the
Wychwood Estate in Cobourg in 1947
On the above date, August 29, 1925, the Canadian National Expedition (CNE) opened to a record first-day attendance of 90,000. It's hard to say if Grace, then one day into her 16th year, cared that The Globe and Mail was calling Toronto "a Mecca for continent-wide joy-seekers," because the "mammoth spectacle" called "Ties That Bind" was celebrating mighty Britain—an empire on which many believed the sun would never set. More than likely, she appreciated another Globe headline, this one about 30 female artists, musicians, and writers: "Women Have Played Important Part in Success and Development of CNE and Will Attain New Heights This Year." The following year, Grace and some friends started the Vulcan yearbook at Central Technical School.
Grace lived long enough to see the sun set on many things and many people. But she also saw the sunrise of discovery, progress, and hope. She knew that while time waits for no one, the circles of life do, in time, become poignantly clear. And she saw, two generations after her discovery, why the Annex is one of the most interesting communities in the country. Grace's eyes are still watching….
Tom G. Kernaghan writes Through Grace's Eyes, a monthly column on Grace Eleanor Cooey, who was born and raised in the Annex at the beginning of the 20th century.
(Gleaner News, Toronto)