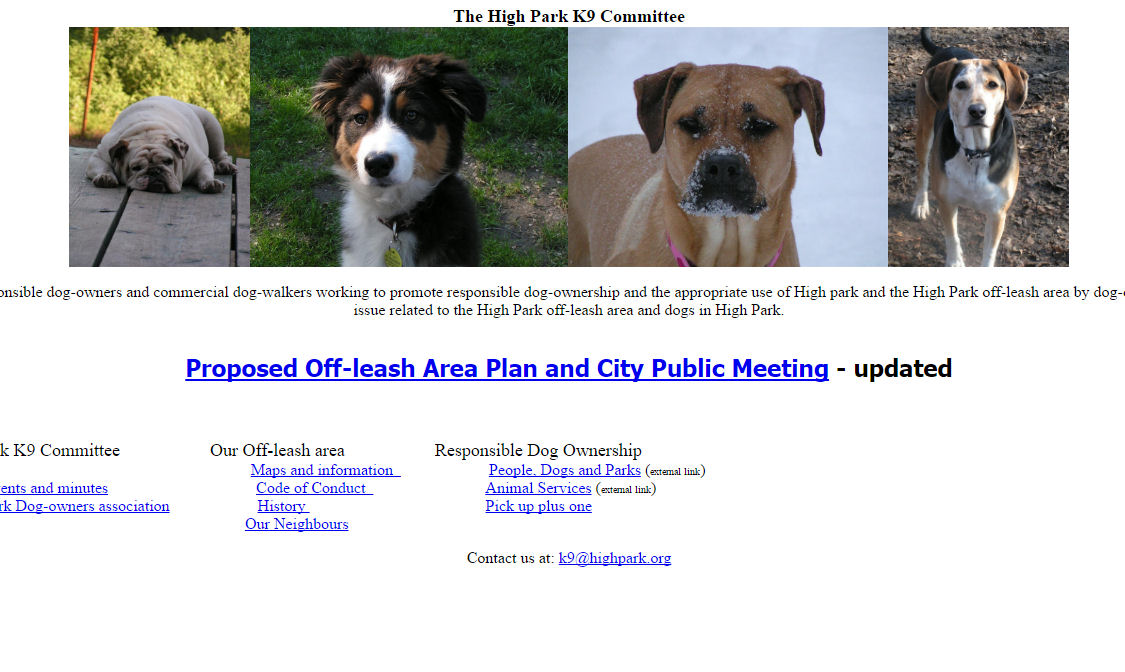 Barking up the right tree
High Park K-9 Committee improves dog-human relations
By Tom G. Kernaghan
Roughly 600 dogs pass through High Park on any given day. Most of the time they present no problem to the people who share the park. On the occasions that they do, however, the High Park K-9 Committee is there to help.
"We're always hoping to provide training and education," says K-9 co-chair Jane Brown of the working group, which formed in 1996. It later became a subcommittee of the High Park Community Advisory Council (HPCAC), a citizens' group committed to the stewardship of the park. "We're here to help people."
The K-9 Committee includes residents, dog owners, and representatives from local business, Animal Services, Parks and Recreation, Mayor David Miller's office, and Councillor Bill Saundercook's (Ward 13, Parkdale-High Park) office. Together they work to create awareness and educate dog owners on the standards for acceptable conduct in the park.
"The bottom line is recall," says Brown, who owns a 9-year-old Airedale terrier named Kippa. "A dog has to come when called. Owners have to demonstrate control."
A full list of conduct codes is printed on signs in the park, which along with 28 other city parks, has a leash-free area known as Dog Hill. An off-leash dog must remain within marked areas and in sight of the owner, who must keep the dog away from other visitors.
"Everyone has to learn to get along," says Brown, adding a frequently asked questions (FAQ) sheet and minutes from K-9 Committee meetings are posted on a dedicated notice board in the middle of Dog Hill.
One FAQ deals with a potentially irksome aspect of dogs in any park: feces, and the diseases it can cause. To address this, K-9 committee members and volunteers supply scooper bags by fastening them to garbage receptacles.
But for some, however, the fear of dogs runs deeper than poop.
"To some a pet is not just a pet," says the owner of a Boston terrier, "it's a threat, especially to [people from] certain cultures." Other dog owners make similar reports, adding children and older residents in particular are wary of dogs, while cyclists, joggers, and people with strollers occasionally encounter dogs on the paved areas.
Given the diversity of the over one million visitors who use the park every year, and the increasing popularity of dogs among local residents, the group understands that measures must be taken to ensure harmonious interaction.
"It's a great idea," says Brown, referring to the park's leash-free zone, which she says may help allay tension and promote goodwill by exposing many non-owners to many well-behaved dogs.
"Dogs need discipline," she says, recognizing training takes a lot of work. "A happy dog is a well-behaved dog."
"A better-exercised dog is a better-behaved dog," says Sandy Straw, manager, Parks and Recreation. "We want to create a positive park experience for all."
By all accounts, most owners are very conscientious and in control of their pets. Still, there are a few who do not comply with the codes.
"The offenders are minor but they do repeat," says Brown. Though failure to scoop poop or leash dogs when required can carry a penalty of $255.00, the goal is to warn and educate rather than fine.
"We see ourselves as serving a support role as opposed to policing," says Brown.
While social responsibility is a big issue for the K-9 Committee, the environment is also a major priority. Keeping dogs leashed in most areas of the sand-based park will help preserve it from erosion and degradation.
In order to create awareness and keep the park clean, the K-9 Committee hosted the High Park/Dog Hill Clean-Up Day on April 30 (during Earth Week). Supported by the HPCAC and sponsored by six pet-related businesses, the event included prizes and informative FAQ handouts.
"It's great," says Brown. "It gives the park profile and acknowledges the tons of time people devote" to protecting the park for all.
For more information please visit http://www.highpark.org or email the K-9 Committee at k9@highpark.org.
(Gleaner News, Toronto)