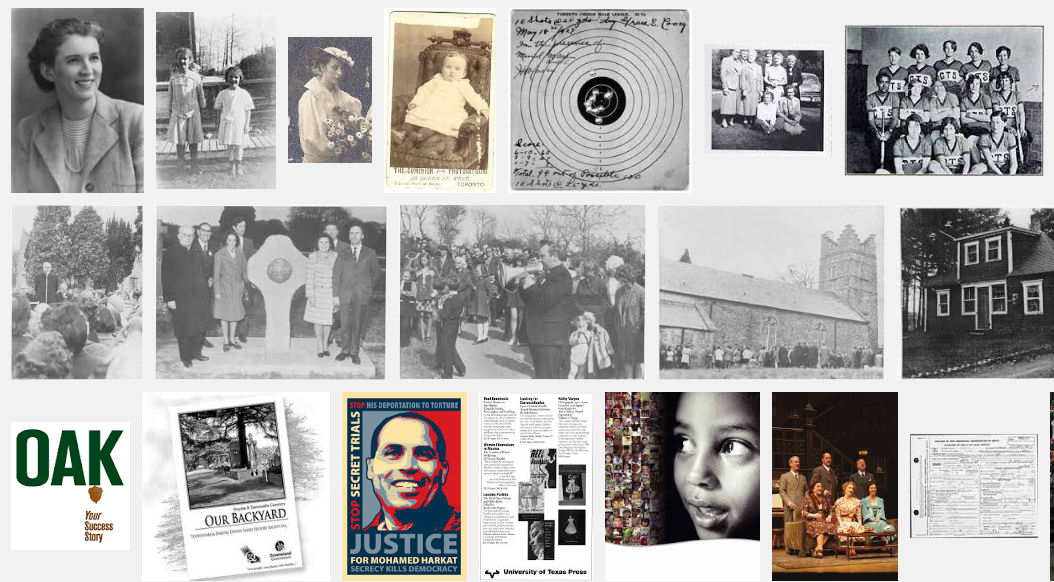 Mother embodied Victorian values
Daughter told stories through gin and cigarettes
By Tom G. Kernaghan
Dear Grace,

We buy our friends on the instalment plan.
You can't have friends for nothing, you know.
The more we pay the better the friend.
For with the price the friendships grow.

We pay in smiles and tender thoughts,
In kindly words, and loving deeds;
Sometimes in joy—sometimes in pain.—
Some sacrifice each friendship needs.

Lovingly, Mother
June 29th, 1924
Susannah Shuter was born on June 29, 1881, one week ahead of Herbert Cooey, her future husband. For all Herbert's laudable determination, this is one race that was out of his hands, as it was out of Susannah's. But in life, this lovely woman, with a piercing stare, made it a point to control as much in her immediate world as possible, particularly her daughter Grace.
Born and raised in the late-Victorian era, Susannah was a private, devout, and abstemious woman with a keen understanding of success. Her parents, Harry Rose Shuter and Ann Shuter, operated a huge market garden immediately southeast of Davenport Road and Shaw Street, in what was then called Bracondale.
A hard-working family, the Shuters were known in the area, and may have been connected to a man who literally put their family on the map by naming Shuter Street after one of them. According to our family lore, it was an uncle of Harry's after whom the street was named. My archival research has revealed that the street was named after one of the "personal friends" of The Hon. John McGill, a Queen's Ranger who immigrated in 1790 and later rose to prominence in Upper Canada. Given the tight-knit nature of the city then, and the genealogical time frame, the connection between these accounts is likely true. Admittedly, I run a small risk of turning history into the handmaiden of supposition.
What is certain is that Susannah learned the values of her time—work, diligence, order, control, sacrifice, and circumspection. The daughter of parents who sold produce directly to the public on their farm, she understood the importance of appearances as well as substance. She also saw the need for continuity.
The Victorian era drew to a close the year before Susannah's marriage to Herbert in 1902. As the wife of Herbert W. Cooey and the mother of his children, she became an Annex woman in a new industrial era.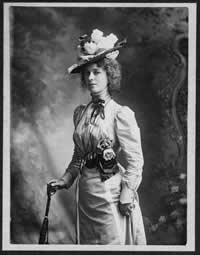 Susannah Shuter, Grace's mother, was a private,
devout, and abstemious woman.
Susannah left little up to chance. She demanded her children, especially Grace, learn and put to use the qualities she carried with her from her childhood spent next to rural Davenport Road.
Until Grace's death in 1998, Susannah's presence haunted our Lake Joseph cottage and Grace's Cobourg home. My grandmother's many stories about her mother, told over gin and cigarette smoke, were filled with affection, but tinged with eerie duress. Quite simply, Grace could never say no to her, and it exacted a heavy toll. George, Grace's husband, could say no to Susannah, and this, in part, led to the tension that ended Grace's marriage. The price of privilege and comfort was high for the ladies who controlled not the source of the wealth, but the public face of its touted and supposed virtue.
The softer side of Susannah was evident in her love of gardening, cycling, cooking, and sewing. Beneath her demanding behaviour lay a sensitive and nurturing soul who loved her children, and, like most in any era, wanted to stave off chaos in order to ensure familial longevity.
Today, when I walk to buy groceries at Dupont and Christie streets, I can't help but imagine the new, growing Annex of Susannah's day, and the Shuter's market garden to the north. And I can't help thinking as I write this piece that Susannah's intense eyes are staring right at me.
Tom G. Kernaghan writes Through Grace's Eyes, a monthly column on Grace Eleanor Cooey, who was born and raised in the Annex at the beginning of the 20th century.
(Gleaner News, Toronto)