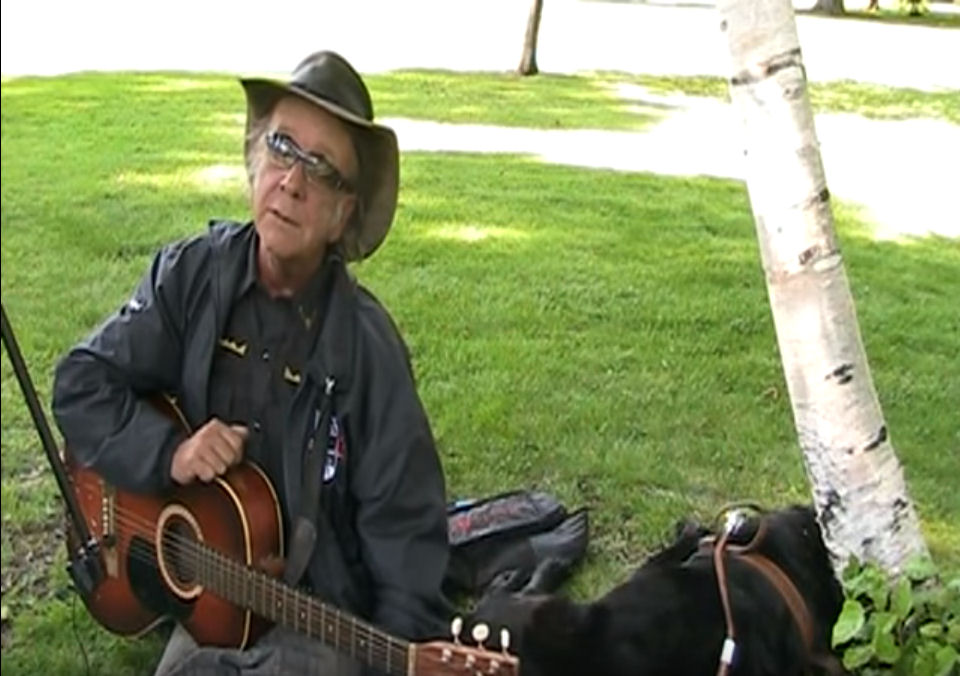 Singing the street story
Gospel and traditional country music inspire Village busker
By Tom G. Kernaghan
I'm going home, I'm going home.
When my work here is o'er
I'm going home."
–Hank Williams
Local busker Paul Stewart knows about being away from home. Since 1992, Stewart has been singing songs in the Village. Day after day, the Etobicoke resident and his 13-year-old Seeing Eye dog, Roadie (named after Rhode Island), make their way to Bloor Street, where Stewart spends hours strumming his guitar and wailing tales of life for the busy Village burghers.
"I've never been a great guitarist," says Stewart, who cites gospel and traditional country artists like Hank Williams as his musical inspiration. For the New Brunswick native who moved to Toronto in 1976 and describes himself as a "wannabe Newfie," it's all about the tale of the individual journey.
"I like a song to have a story or a message to it," he says, adding that he plays cover tunes as well as his own material, some of which in 1995 he recorded on a 19-song tape he called On the Road of Life. He currently is preparing to record a CD of new work.
It's said that everyone has a story to tell. Stewart's story is one of a long, well-travelled road to Bloor Street, a path marked by loss and compassion, and told in tunes.
Having lost his sight due to a brain tumour at age six, Stewart has learned to hear the activity of life. With the help of three Seeing Eye dogs over 30 years, he has lived around the city, memorizing the subway system, and has often travelled alone, particularly in the Maritimes. While he is willing to travel to find stories and people, he is happy to stand and play while people walk past. He says that busking on Bloor Street West is like being on a stage from which he can hear the rhythms around him.
"It's a nice area," says Stewart of the Village and the generally friendly treatment he receives. "You are nervous at first, but once people get to know you, you feel part of it. Most of the time, people are nice."
Some say Stewart, who likes to busk near Jane Street, Windermere Avenue, and Kennedy Avenue, is a familiar and welcome part of the Village streetscape.
"Buskers who provide entertainment for currency," says local resident Peter Jacobs, "I have no problem with them. In the case of someone like [Paul], I think he adds a little personality to the neighbourhoood."
"I like the idea of buskers in the neighbourhood," agrees Zeke Zavier, a local resident and co-founder of Rock the Vote, an organization raising political and social awareness about local and global issues. "I think it's a great idea."
But not all have been tolerant of Stewart's presence.
He tells of one local lawyer who had him removed from in front of his office, even though it was closed at the time. While the police officers were friendly, says Stewart, he was offended that such a strong measure was taken. "I'm not out to be rude," say Stewart. "Why didn't he just come to me himself and ask me to move? I would've."
Other retailers on the street have been kinder, bringing him sandwiches and hot chocolate. Similarly, some passers-by toss money into his guitar case, though most walk by.
"I don't care one way or the other," says Stewart. "I'm here to entertain."
He may be on the street to entertain, but he often helps raise money by playing at various spots around the city. A few years ago, he made a televised contribution to the CHUMCity Christmas Wish.
While giving comes quite easily to Stewart, one of his biggest problems is people lecturing him about how to care for Roadie, or worse, throwing the dog food that will make him sick.
"What are these people thinking?" wonders Stewart. "I know how to take care of him. Roadie is my eyes. Why would I mess with my eyes?"
Stewart is also interested in fresh ears. He plans to audition for one of the highly sought-after subway busker spots this August. He's also written a jingle called "The Better Way," which he hopes to sell to the TTC, which has been his way home for years.
(Gleaner News, Toronto)