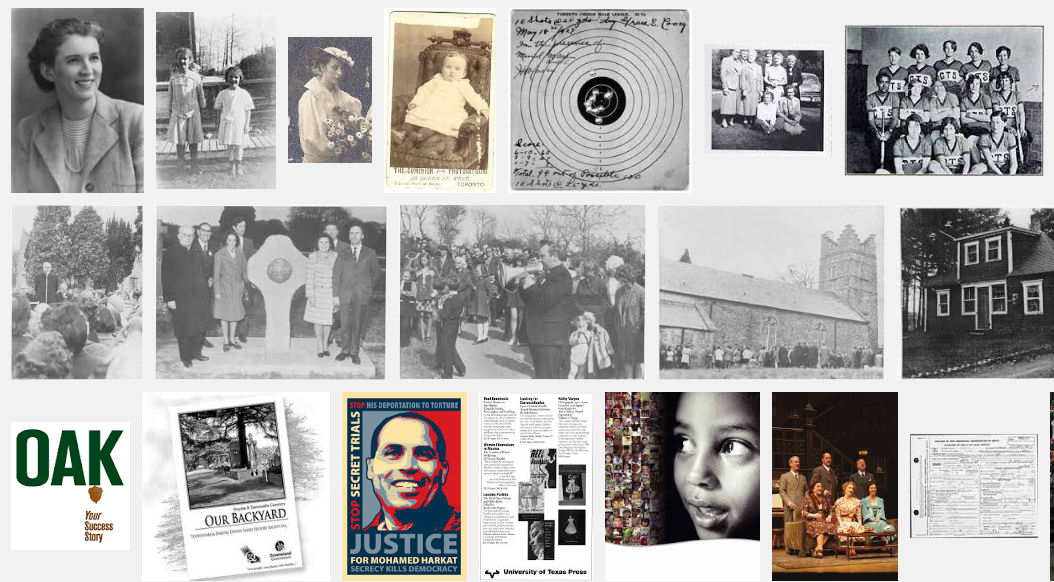 Prepared for Life
Herbert Cooey insisted his children attend Central Tech
By Tom G. Kernaghan
If you bring a smiling visage to the glass
You meet a smile.

Dad
May 29, 1924

"I count this thing to be grandly true,
that a noble deed is a step toward God,
Lifting the soul from the common cloud
To a purer air and a broader view."

William Kemp
C.T.S.
October/1924
Herbert Cooey insisted his children attend Central Technical School, in his opinion the best school in the city. Though their Bathurst Street home was considered outside the school's district, the three Cooey kids—Grace, Donald, and Hubert—raced off to CTS, to become their father's children—technically inclined and prepared for life.
Born in Toronto, on July 6, 1881, Herbert was a natural entrepreneur. He left school at age thirteen and became a tool and die apprentice, both in Toronto and, briefly, in Cleveland, Ohio. Quick to learn, he mastered his trade, and in 1903 opened his first shop at Queen Street and Spadina Avenue. His business and technical acumen flourished. By the end of 1907, he had built his first car and had designed efficiency improvements to the combustion engine: pre-heated fuel and dual exhaust valves. In 1909, he moved his machining plant to the northeast corner of Bridgman and Howland avenues. Here his business shot forward when he brought his Cooey .22-calibre hunting rifle to the market, and secured a large contract to manufacture munitions for the government during the First World War.
Though occasional economic slow-downs had touched the area, by the 1920s life in the north Annex was grand and growing. Council minutes on June 2nd, 1924, just days after Herb penned the above entry, reflected the growth of Toronto's choice northern suburb. Issues of the day included the expansion of the water works system, the growing need to deal with sewage in the Village of Forest Hill, higher rates for commercial lighting to pay for the much the needed expansion of the hydro-electric system, and the paving and TTC track allowance on Davenport Road between Dovercourt Road and Bathurst Street.
Herbert felt optimistic and undaunted about his business. His firm was growing and he'd acquired cottage property on Lake Joseph. And yet for all of his fearlessness, Herbert was almost obsessive about safety when it came to guns, his or any others. In fact, a Cooey company motto was "Safety First."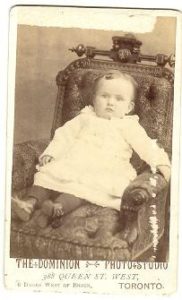 Herbert Cooey as a baby in a photo taken at
The Dominion Photo Studio, 388 Queen St. W., circa 1882.
As a child I could hear his voice through Grace whenever she scolded my brother and me for pointing water pistols at each other at the cottage. Never, under any circumstances, were we to point any gun at anyone. Grace admired their strength, but understood and respected the terrible power of guns, which makes this entry in the June 1927 C.T.S. Vulcan magazine (her last) all the more amusing: "[Grace] will eventually take to hunting wild animals with her father's guns." The Grace I knew was an animal lover, and, except for fish, never willingly harmed an animal in any way.
On May 29, 1924, the Globe and Mail reported that Fred Bowen, a 24-year-old Trenton man, had been accidentally shot to death by a 16-year-old girl in Niagara Falls, Ontario. If she was aware of this at the time, Grace would've been deeply saddened by such a tragic mishap. Having grown up in the wake of the First World War, she knew about the dark potential of firearms mixed with malevolence, not to mention the delicate irony of her family fortune.
Years later, and not by accident, world war once again reared its ugly head, showing the planet its darkest use of modern weaponry. Though she was an extremely proud Canadian, Grace acknowledged her roots in Northern Ireland and England. So when the Second World War broke out, Grace and her husband George willingly, and at their own expense, took in two English girls—Alison Francis Napier-Clevering and Valerie Herron, after whom my mother was named.
In the aforementioned Globe there also ran an ad for Dr. William's "Pink Pills," which were meant to help women with their apparently inferior nerves. I know what Grace would've said to this notion: rubbish. She would have said that while action often requires courage, the same can easily be said about compassion and restraint.
Tom G. Kernaghan writes Through Grace's Eyes, a monthly column on Grace Eleanor Cooey, who was born and raised in the Annex at the beginning of the 20th century.
(Gleaner News, Toronto)