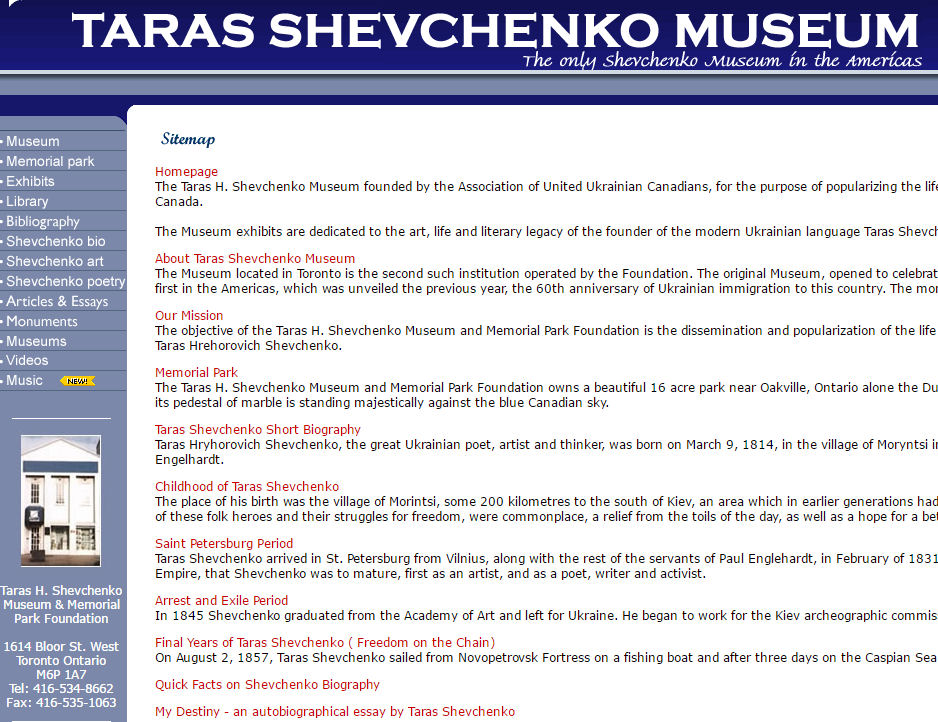 The Bard of Ukraine
Local museum honours Ukrainian hero
By Tom G. Kernaghan
Oh bury me, and rise ye up
And break your heavy chains"
Taras H. Shevchenko
In the Taras Shevchenko Museum (1614 Bloor St. W.), the brilliant man known as the Bard of Ukraine lives in copies of his artwork, books of poetry, and works rendered in his honour. His greatest home, however, is in the hearts and minds of people the world over. Here in the west end, members of the museum are preserving and spreading the memory of the man who dared to speak out against Tsarist oppression in the 19th century.
"He's considered the greatest son of Ukraine," says Bill Harasym, local resident and president of the Taras H. Shevchenko Museum & Memorial Park Foundation. "And he's considered the father of the modern Ukrainian language."
Born a serf on March 9, 1814, in the village of Moryntsi, Shevchenko knew struggle and loss at a young age. Orphaned at 11, he became a domestic servant to a baron. When political circumstances brought his master to St. Petersburg, Russia, some of the city's intellectual and cultural elite discovered the youth's creativity. In 1838, they purchased his freedom for 2,500 roubles, allowing Shevchenko, now a young man, to study art, literature and philosophy. But it was following a trip home to Ukraine his work and his political outlook grew to levels considered dangerous by Tsar Nicholas I, who exiled the poet to the eastern regions of Russia. Over the next 10 years he continued to work surreptitiously, his eye trained on the suffering around him.
"How do you stop a person from thinking and dreaming?" asks 80-year-old Harasym, born to Ukrainian parents in Alberta. "How do you stop a person from being who they are?"
The museum, the only one of its kind on in North America, also has struggled against adversity. In 1988, arsonists destroyed the original building, built by the Association of United Ukrainian Canadians in 1952. Through determination and the generosity of donors, they re-opened the museum in its current location, having decided west Toronto would provide them with greater exposure and access.
"It sucks you in deeply," says Harasym, who learned Ukrainian as a young man. After years with the association, Harasym can easily and enthusiastically discuss the museum's embroideries, crafts, tools, and steely-eyed images of the genius. Harasym is particularly proud of the research library, which contains roughly 1,200 works by or of the bard, and 120 copies of the Kobzar, his fiery and seminal work of poetry.
As with many great figures, however, there remains an enigmatic quality about the man, who unflinchingly challenged the political establishment, and possessed a thorough understanding of the Bible.
"To this day," says Harasym, "the more you know about Shevchenko, the less there is that you really know…. It takes years. But it grows on you."
Today there is growing interest in the Bloor Street museum, as a new, fourth wave of post-Soviet Ukrainian immigrants, like the museum's manager, Mila Pogoryelova, have begun arriving to the city. While there is renewed interest in Shevchenko among local Ukrainians, people of all backgrounds are fascinated by his courage and determination.
"A lot of non-Ukrainians and young people are interested in the life and work of Shevchenko," says Pogoryelova. "It's amazing."
"We have quite a cross-section of visitors," says Harasym.
"His poetry and his art are so humanistic that everyone can find closeness to Shevchenko," says Pogoryelova, adding his appeal transcends politics, educational level, and societal status.
Shevchenko died in St. Petersburg on March 10, 1861, at the age of 47. His body was returned to Ukraine and buried high on a hill in Kaniv.
"He decided to educate people and make them aware of what [was] happening," says Pogoryelova. "His life was elevated because of efforts."
For more information, please visit http://www.infoukes.com/shevchenkomuseum/sitemap.htm, or phone 416-534-8662
(Gleaner News, Toronto)