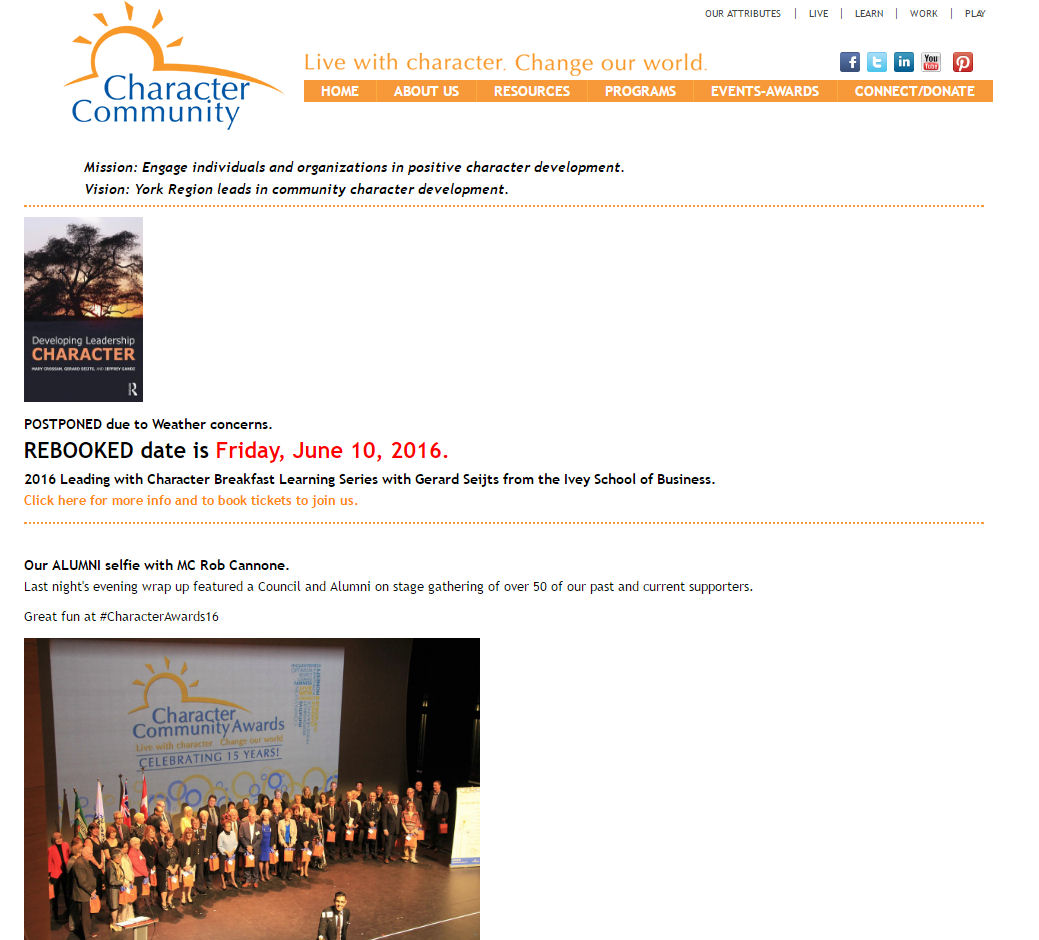 Article appeared in the April 2007 issue of Municipal World magazine
By Tom G. Kernaghan
"The better a State is constituted, the more do public affairs intrude upon private affairs in the minds of the citizens."
Jean Jacques Rousseau
The Social Contract
Character is working in York Region. For the past five years, the nine municipalities that constitute the vast and vibrant region to the north of Toronto, Ontario, have been taking bold steps toward a better future.
On January 24, 2002, York Region passed a resolution declaring itself a "character community" – the first of its kind in Canada – and, in doing so, became one in which elected officials, educators, business and community leaders, and nearly one million citizens could decide to live, work and play according to agreed-upon principles.
To those who created and continue to promote the initiative, character is about more than residents being nice to one another. The ultimate purpose of developing character is for people to integrate positive value-driven actions into their lives, to increase their participation in civic matters, and to create a foundation for excellence and sustainable progress.
The genesis of the initiative occurred in 2000 when Don Cousens, then Mayor of Markham, one of York Region's nine regional municipalities, found himself thinking about his community and his country. Ideas started to fly when he discovered his friend and colleague Dr. Avis Glaze, who at the time was the Associate Director of Education for York Region, had also been pondering the future.
"We talked about a society that was in turmoil," Cousens wrote in the book Building Character: A Community's Success Story, a 2005 publication detailing the history of the initiative and its effective strategies, "one that had lost its ability to demonstrate civility and common decency – a society that had replaced basic human values such as respect, responsibility and honesty with those rooted in consumerism and pop culture."
Cousens and Glaze saw a lack of meaningful connections among citizens, widening gaps between people, and an urgent need for increased civic participation. Not only did people need to work with character toward the common good, but character had to be defined in a way that addressed and respected the ever increasing diversity throughout York Region. An undertaking of this scope required a plan. It also required a deeper understanding.
Quest for Character
Enter the York Region District School Board (YRDSB), which that same year had launched its own character education initiative called Character Matters. In the spring of 2001, the YRDSB hosted a symposium called Quest for Character, which was attended by hundreds of educators from across North America, and by former Ontario premier David Peterson and Justin Trudeau. Cousens and Glaze saw the union between education and community as a natural partnership, believing that by cultivating excellence in the young, we all can play a part in raising our children to become the productive citizens and strong leaders of tomorrow.
It was at the symposium that Mayor Cousens led a forum to explore how to build cities and communities of character. The event generated excitement and momentum, encouraging others to join in. A steering committee was formed and the character initiative in York Region was born. In the same way they saw character enriching all aspects of an individual's life, so too did the committee envision that a common character language could give the entire region its legs. But first, they would have to focus on hearts and minds, and hands. A region-wide strategy was carried out.
Public Dialogue
The committee ran a piece announcing the Character Community in the newspapers of the York Region Newspaper Group, inviting 250 individuals from all sectors of the region – education, business, emergency services, faith groups, and residents – to discuss and determine the meaning of character.
However, some of Glaze's colleagues were skeptical. Recalling what Glaze described as the "values fiasco" of attempts made during the 1970s to determine morality, doubters predicted the Character initiative would prove divisive and futile.
"Many people said, 'don't touch it, don't touch it,' she said. "But I felt the time had come within our multicultural, within our diverse society, to find common ground, to let the community define the attributes."
Every group was represented, recalled Glaze, who deeply understood that full community consultation was essential to understanding character and how it would take shape in the region. The results of the process were encouraging. Not only did York Region adopt the 11 core character attributes (see sidebar) that are now the working bedrock of the Character Community initiative, but young people showed a high level of concern and passion for the future, even choosing to hold their own forum to discuss character.
"Schools exist within a context, and that context is community," said Glaze, adding many were surprised by the teenagers' enthusiastic participation. "But you cannot have [the initiative] done to students; it has to be done with them. It wouldn't have been effective without their total engagement."
Community Engagement
Soon, the nine municipalities of York Region became engaged by agreeing to become character communities within the York Region Character Community. Representatives from government, business, education, libraries, emergency services, community groups, and the media joined to create the Character Community Council.
The slogans I live with character and I work with character were printed on a bi-weekly newsletter, which was supported by a website and brochures providing information on the initiative and the attributes. Marketing materials such as pens, pads and bookmarks were also distributed, and local newspapers got further involved by publishing information about each monthly attribute.
"We knew the community was behind us," said Glaze, who is now Chief Student Achievement Officer of Ontario and CEO of the Literacy and Numeracy Secretariat. "We knew it would work." Parents and teachers started seizing "teachable moments" in which positive behaviour could be identified, understood and reinforced within the framework of the character-oriented language. Schools started anti-bullying campaigns. Businesses promoted the initiative and made the pursuit of character a part of office culture. The Character Conference and Character Community Day became annual events. Hockey rinks had character attributes painted right into centre ice, and the Character Community Council welcomed former Toronto Maples Leafs captain Wendell Clark as the initiative's official champion.
Far-Reaching Benefits
Today, the benefits of character can be seen within the municipalities of York Region. The Town of Richmond Hill has incorporated character attributes into their hiring practices. The York Regional Police department awards officers who conduct themselves with integrity, honesty and responsibility. The Town of Aurora recognizes employees who exemplify good character. And, the people of Whitchurch-Stouffville have chosen generosity as their 12th attribute – highlighting the flexible, grass-roots nature of the initiative.
In the Town of Markham, the operations department acknowledges staff members who show compassion by helping motorists; recreation and corporate communications staff spread awareness through posters and intranet; human resources staff have already begun asking character-related questions during interviews; and the town is encouraging inclusiveness and responsibility through IDEAS, a system whereby all staff are free to suggest workplace improvements.
"It's a no-brainer if you're a decent person," said Richard Bullis, Facility Co-ordinator for the Mount Joy and Markham Village Community Centres. Bullis explained that even though the attributes are universal, the initiative is not meant to be a top-down panacea, adding character awareness takes time to become part of people's regular habits. "You can't force people. They have to want to incorporate the attributes into their daily lives."
People also want to see results, and measurability can be a powerful antidote to attitudinal inertia and cynicism.
Recent statistics from the Town of Markham indicate many employees in their municipal offices are feeling the positive effects character. In its most recent annual employee satisfaction survey, which measures the practical application of the attributes within its offices, the town saw an average ranking of 3.78 out of 5, the highest ranked attribute being perseverance at 4.12. Since the "character index" was first put into use back in 2004, there has been an overall increase of six per cent, with optimism, inclusiveness and integrity each rising over 9 per cent.
"It's what people make of it," said Bullis, stressing the importance of vigilance at work, at home, while playing sports, and in our relationship with the environment. "It's already impacted my thought process."
Foundation of Respect
"It's not an add-on," said Glaze. "Our country needs the best citizens. We need kindness, generosity and harmony. Respect is a foundation of all that."
The foundation continues to grow. On June 2, 2006, the McGuinty government declared Ontario a "Province of Character," and in October 2006 announced $2 million in funding would be made available for the Character Development Initiative, which will partner educators with parents and students to create character programs across the province.
"The Character Development Initiative helps strengthen our common values and capitalizes on the excellent work our schools have already been doing," said Premier Dalton McGuinty. "By working together to foster and promote respect, responsibility and integrity in our schools and among all of our citizens, we are building a better Ontario."
More information about the York Region Character Community is available from Christine DeHaas, at 905-830-4444 ext. 1522, character.community@york.ca , or by visiting the website at www.charactercommunity.com.