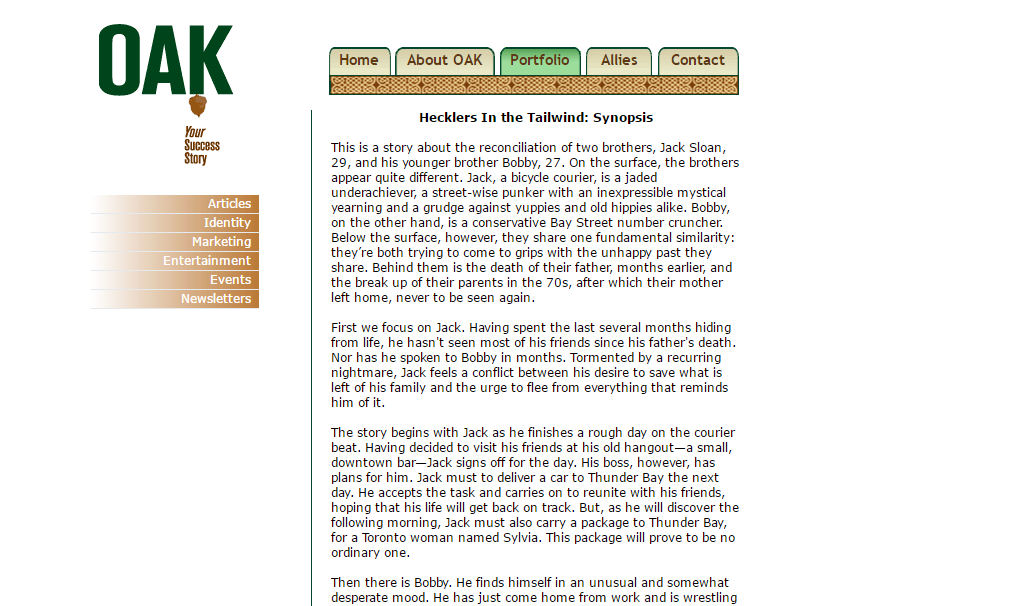 Hecklers In the Tailwind: Synopsis
This is a story about the reconciliation of two brothers, Jack Sloan, 29, and his younger brother Bobby, 27. On the surface, the brothers appear quite different. Jack, a bicycle courier, is a jaded underachiever, a street-wise punker with an inexpressible mystical yearning and a grudge against yuppies and old hippies alike. Bobby, on the other hand, is a conservative Bay Street number cruncher. Below the surface, however, they share one fundamental similarity: they're both trying to come to grips with the unhappy past they share. Behind them is the death of their father, months earlier, and the break up of their parents in the 70s, after which their mother left home, never to be seen again.
First we focus on Jack. Having spent the last several months hiding from life, he hasn't seen most of his friends since his father's death. Nor has he spoken to Bobby in months. Tormented by a recurring nightmare, Jack feels a conflict between his desire to save what is left of his family and the urge to flee from everything that reminds him of it.
The story begins with Jack as he finishes a rough day on the courier beat. Having decided to visit his friends at his old hangout—a small, downtown bar—Jack signs off for the day. His boss, however, has plans for him. Jack must to deliver a car to Thunder Bay the next day. He accepts the task and carries on to reunite with his friends, hoping that his life will get back on track. But, as he will discover the following morning, Jack must also carry a package to Thunder Bay, for a Toronto woman named Sylvia. This package will prove to be no ordinary one.
Then there is Bobby. He finds himself in an unusual and somewhat desperate mood. He has just come home from work and is wrestling with his anxiety; he must overcome his fears of marriage and bring himself to propose to his girlfriend, Kim. He decides to leave the next day for a week's retreat in order to gather his thoughts; however, he has chosen no destination. In order to quell Kim's worry, Bobby will leave her an explanatory letter on a floppy disk.
The next morning circumstances thrust the two solitary Sloan brothers into reunion when Jack and Bobby nearly collide at a city intersection. Reluctantly, Bobby joins Jack for the trip north. However, the brothers will get more than they bargained for. The three days ahead of them will be more than just a job for Jack, a respite for Bobby, and a search for their immediate futures. The two brothers will encounter an uncle they haven't seen in almost twenty years, eccentric restaurant workers, a disappearing native hitchhiker, vehicular mishaps, and another native man on a mission, and, ultimately, the secret of the parcel. Jack and Bobby will encounter the past, the present, and themselves. And they'll learn that while you can't always get what you want, sometimes, you get what you need.
(This screenplay, my first, was optioned by Jericho/Deer Valley Productions.)