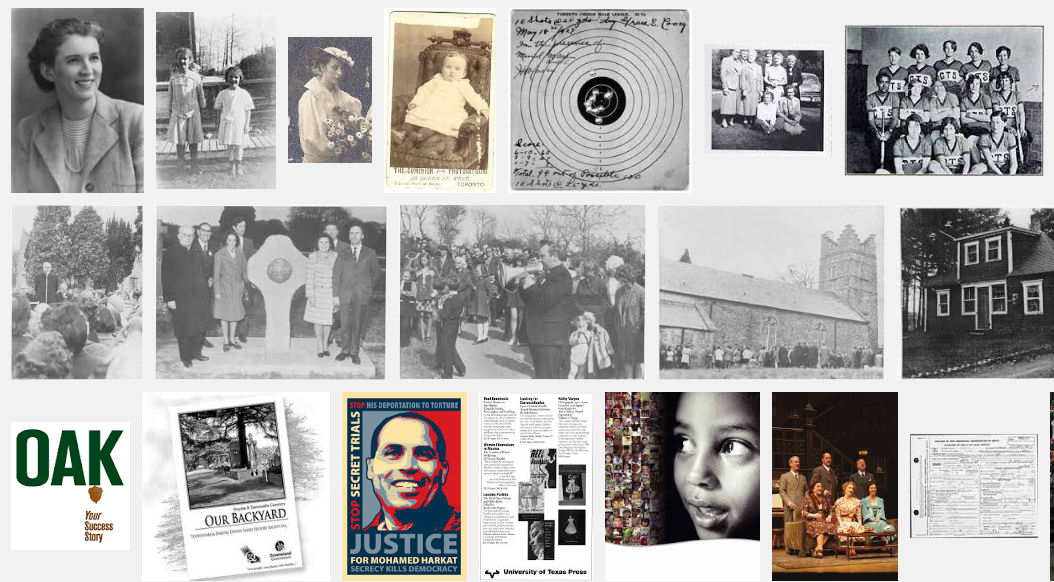 A daughter's eyes, a mother's ears
Grace Cooey had a profound bond with her daughter
By Tom G. Kernaghan
Many are called but few get up.
Elsie M. MacIntosh
July 4th, 1925
In the same month Grace's cousin wrote the above words, John Scopes was found guilty of teaching the theory of evolution in Dayton, Tennessee. Grace supported true progress, especially in education, and admired Scopes for his fortitude.
Grace got up, time after time throughout her life. She got up at Central Tech, where she was a medal-winning swimmer, and played basketball, volleyball, baseball, and badminton. She got up at U of T and proved that hockey was also for women. And years later she got up when nature kept her from bearing children.
H.W. Cooey raised his daughter to rise to challenges.
In his own lifetime, Herbert was an achiever. He supervised a large staff of munitions workers at his Annex firearms plant during the First World War. He won a gold medal for trap shooting at the 1924 British Empire Exhibition in England. At age 12, he rode his bike to Owen Sound after a dispute with his stepmother. And with an elementary school education, and a preternatural grasp of engineering design and business, he patented combustion engines and built a small empire that made him a millionaire. Herbert and his wife Susannah were part of the new and affluent industrial merchant class growing on the city's edge. Many of Herbert's workers, who were loyal and full of admiration, rented rooms in his relatives' homes along Howland Avenue.
So when as a young child Grace lost much of her hearing to a severe nasal infection, it was no surprise that she was determined to carry herself through a life of missed utterances and general ignorance toward the hearing impaired. In my last column, I mentioned that Grace was often her daughter Alison's eyes. Part of what made their bond so strong was that Alison was her mother's ears, when hearing aids failed against the march of old age.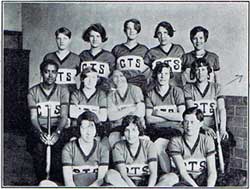 Grace (back row, second from left), poses with
Central Technical School's woman's baskeball team.
Their bond was profound and enduring.
Grace often visited Alison before she left the Annex in 1962. They would spend hours walking the streets, while Grace recalled her own teen years, her relatives on Howland Avenue and Walmer Road, and the early days of her father's factory. By late 1962, however, Herbert was gone and the Cooey firearms operation was now part of Winchester Canada, the building itself home to the Cobourg Star (still there today). And the Howland and Bridgman avenues plant was long closed. To my knowledge, she didn't set foot in the Annex again until the late 1980s, when Alison brought her back to Central Tech, where for the first time she saw the school's lower level that girls were forbidden to access in the 1920s.
Though a progressive thinker, Grace was a woman who understood the importance of old stories, and she relayed her detailed accounts with startling clarity and heartening emotion. When she spoke her eyes conveyed mute sadness for the people no longer in her life. But they also expressed a deep love for this community and its mystique, which still lingers among the giant oak trees and majestic red brick houses today. Her Annex was in a period of hope and change—it still is and therefore, in some ways, it remains the same.
A lifelong member of The Business and Professional Women's Association, Grace travelled the world; taking in the stories and cultures she could only dream about when she was a child on Bathurst Street. Regrettably, poor health and circumstances kept her from visiting me when I moved to the Annex in 1992. But a long pull on her cigarette and a knowing smile were evidence to me that she knew why I had moved down here. Just before she died in 1998, I looked into her eyes and imagined all they had seen in this neighbourhood and in the world around it.
Grace used to say: "Anyone who stops learning when they graduate has for all their formal education learned nothing. Never forget, learning is for life."
For years I have taken this philosophy to heart. Learning and sharing were at the core of her nature and the way she lived. And I intend to further honour her words with my own in the coming columns.
Tom G. Kernaghan writes Through Grace's Eyes, a monthly column on Grace Eleanor Cooey, who was born and raised in the Annex at the beginning of the 20th century.
(Gleaner News, Toronto)